Our Asset Depletion Loans are offered in: California, Colorado, Connecticut, Florida, Georgia, Illinois, Maryland, New Jersey, New York, North Carolina, Pennsylvania, Oregon, Rhode Island, South Carolina, and Washington D.C.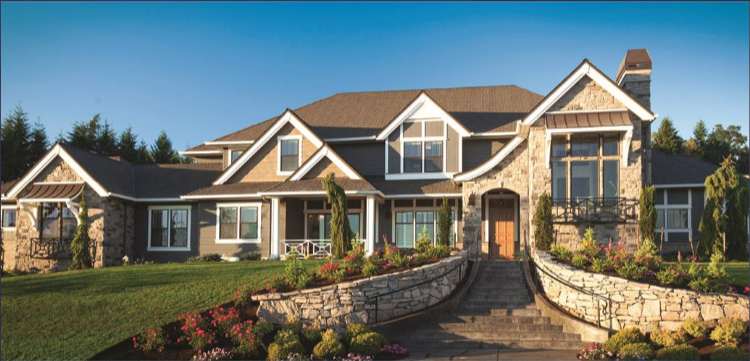 How the Program Works
Asset depletion is used to establish monthly income for borrowers based on their liquid assets
Automated calculator uses a 4% rate of return on the assets PLUS a depletion amount based on the borrower's age and Social Security Administration's life expectancy
Asset depletion calculator can be found on the Northstar Funding website at advancialwholesale.com under Broker Resources or your AE can send you a copy
Assets are used at 100% face value including retirement accounts (retirement only used if borrower is age 59 1/2 or older)
Calculator Example
Calculator example for 72 year old borrower purchasing a $275,000.00 home.
In this example you can use $7,723.00 as monthly income on the 1003 under "other types of income".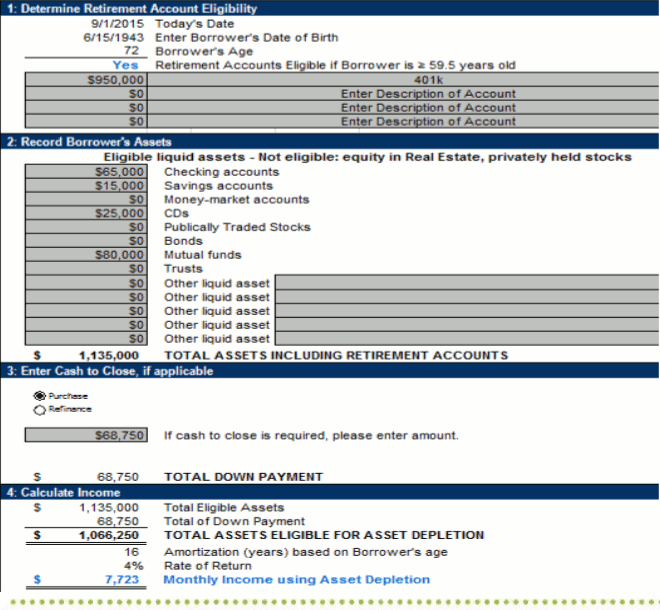 The Northstar Funding Difference
Loan sizes as large as $3 million and as small as $100K allowed
Up to 75% LTV for owner occupied and 2nd homes including Non-Warrantable Condos, Co-ops, Condotels and Cash Out
Investment properties allowed up to 60% LTV including cash out
Northstar Funding allows up to 10 financed units and 15 total REO including cash out loans
Assets are used at 100% face value with no reduction for stocks, bonds, mutual funds or other publically traded accounts
Cash out can be used in the calculator as income on a case by case basis
No rate adjustments apply to the program – please note max LTV is 75%
Northstar Funding does not:

Require active depository relationship ($5 membership account required)
Require pledged funds
Solicit the borrow to transfer assets This is a key benefit to generate leads from Financial Planners, Wealth Managers and Investment Planners

Only one appraisal required regardless of loan amount or cash out
Asset depletion can be used in conjunction with all other income sources such as W
2, self- employed, pension, Social Security or rental income
All specialty programs can be used in conjunction with asset depletion and all collateral types are allowed i.e.:

Multi Family
Hobby farms/acreage
Work Visa/Expat
No Credit/Limited Credit
2-4 family
Non-warrantable Condos
Co-ops
Condotels
Cash Out
Points to Remember
Assets must be held in U.S. account
REITs, Hedge Funds, Venture Capital, Notes Payable or other private investments typically cannot be used
Funds inside an annuity and cash value or life insurance cannot be used
Trust assets can be used if the borrower has 100% unrestricted access to the funds and all trust documents and asset statements are provided
Accounts shared by borrower and co-borrower can be used using the elder borrower's age
Reserve requirement is not deducted from the assets when populating the calculator
Northstar Funding Has No Rate Adjustments for the Asset Depletion Program!
Pricing Example:
No rate adjustment for  the program.
Asset depletion max LTV is 75% for owner occupied or 2nd home.
Asset Depletion Arm Product Features
Max DTI 43%
75% LTV up to $1 million loan amount with reduced LTVs up to $3 million
30 year amortization
No prepayment penalty
2/2/6 caps, 1-year CMT Index, 3.0% Margin, Floor = Note Rate
Qualify at the start rate on 7/1, 2% over on the 5/1 and 6% over on the 3/1
Escrows generally required